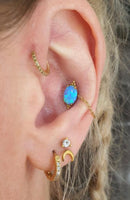 Utopia body arts Aberdeen.
A modern and safe studio space that offers Professional body piercings & Exquisite body jewellery.
Our Piercing and jewellery team are here to provide you with a very comfortable and personalised piercing experience. We offer a full range of body and ear piercings, from single lobes for young people to full ear curations.

Our resident tattoo artists provide custom, one off tattoos and are all prolific in art outside of tattooing. We all love to paint, design and draw so If you are looking to start your new tattoo project, get in contact with us. We welcome tattoo enquiries via email fb/insta
Client Reviews
Can't recommend Nathan enough - he's knowledgable, professional and super friendly. He prides himself on providing an excellent service from start to finish. He also has an amazing choice of jewellery to suit every taste and budget! 

Lucy Rowe
Couldn't recommend Nathan and Shaun enough. Had few piercings done by Nathan- absolutely amazing at his job and never had an issue. Had few tattoos done by Shaun at his old place - amazing work and can't wait to have my sleeve finished once this lockdown is over ⭐️⭐️⭐️⭐️

Daniela Maidele
Can't fault Nathan, super professional along with being one of the most approachable and friendly people you will meet, his piercing work speaks for its self...it's excellent! Would highly recommend! 

Guy Wilson
Can't rate Nathan enough! All of my piercings have been done by him, he is a great, professional piercer who is always great to chat to! His work is always flawless, always a great help when it comes to advice and aftercare. Would recommend to anyone.

Xavier Tapscott.
Nathan is the best piercer i've come across. So professional, gives great advice regarding aftercare, loves what he does and is just an all round cool guy 😀 Highly recommend x 

Ellie McPherson.
 Shaun flinn is hands down one of the most talented and hard working artists after bursting on the scene within the tattoo community. Heavy recommend as you will not be left disappointed

Jack watt
Location
-Opening hours-
Monday 12-5
Tuesday 10-6
Wednesday 10-6
Thursday 10-7
Friday 10-6
Saturday 10-6